Next start date TBA!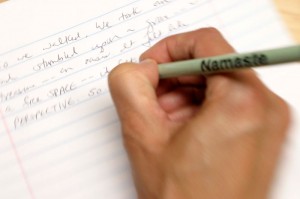 Journaling can be transformational. The simple act of putting your pen to paper offers up great insights, helps you recognize patterns and connects you with your truth by allowing you to express your feelings. And the more you do it the more it serves you! It is a wonderful habit to build.
This journaling experience is designed to get you to the page everyday for 10 minutes. I have found that working with a timer helps to anchor me in the habit. I feel committed to write until the timer goes off and sometimes the very best stuff happens towards the end, in that moment where I feel like I have nothing more to say but keep going anyway.
I hope you will join the experience!
Here is how it works:
Each day for 10 straight days, you will set a timer for 10 minutes and write, write, write in your journal. I will send an email each morning with some encouragement and an optional prompt to get you started. This is a self-guided experience but we will all be moving through the 10 days together.
You can do your 10 minutes anytime of the day that works for you.
Fee: $10
All you need is a timer, a notebook and a pen!
To register click right here: